Why New and Experienced Players Love to Keep an Eye on the Best 3 Reel Slot Titles
3 reel slots have a special place in the slot title genre, because many players see them as classic games. They are the retro machines that older, veteran gamblers used to play when slot titles where just introduced. Most of these early days slot machines, like for example Lucky 7s Slots, had a simple set up of three reels.
Take A Trip Down Memory Lane with Classic 3 Reel Slots
If you are a veteran gambler, then playing 3 reel slots can certainly feel like taking a trip down memory lane. Seeing all those amazing slot classics, you probably want to dive right into the gambling action to relive those familiar feelings of joy that you had before in the old school casino and local pub days.
Classic Slot Games Are Perfect Starting Points for New Players
But don't worry if you are actually a new player and so far have no idea what to think of 3 reel slots. Actually, 3 reel slots might be the best titles to start with if you just signed up as an online casino member and want to become familiar with all the available slot games. In general, expect to make winning combinations with a minimum of one and a maximum of three pay lines when you spin the reels of a classic slot. This is convenient if you are a new player or if you are on a tight budget. After all, less pay lines and less slot reels mean that you pay lower wagers. However, keep in mind that lower wagers also result in lower jackpots. 3 reel slot jackpots usually reward you with coin amounts that rank between a few hundred to a thousand coins.
Modern Casino Game Developers Know How to Entertain You with 3 Reel Slots
Lower jackpots are nothing to worry about, because you can still expect to have a high amount of fun with these kind of slot games. 3 reel slots might look simple, and classic might sound old fashioned to you, but many quality slot game developers, like Rival Gaming and Realtime Gaming, definitely know how to make them attractive and entertaining.
The Theme Often Makes the Game
You don't just place a bet and spin some reels when you choose slots from popular developers. There is actually a lot more to enjoy than just the thrill of the bet. For example, one of the extra entertaining factors is the theme that comes with the game. This theme creates a certain narrative and pulls you right into that story. Some examples of captivating themes can be action hero fighting, ancient Egypt or American patriotism. With such enjoyable and unique topics, it becomes all the more fun to play 3 reel slots. Furthermore, the presence of a very beneficial bonus feature of course extra enhances the quality and attractiveness of a game.
What Are the Best 3 Reel Slots In Online Casinos
As an avid 3 reel player or as a newbie to the genre, you probably like to keep an eye on the best titles in this game category. If that is the case, then you certainly came to the right place. This is an overview of the best 3 reel slot titles in online casinos.
Five Times Wins Slots Brings the Local Pub to Your Screen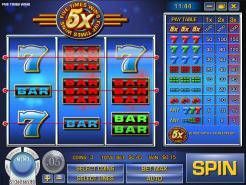 It is time to launch the reels of Rival Gaming's Five Times Wins Slot. This classic three reel and three pay line slot title will make you feel like you are casually spinning symbols in a local pub. It is a great introduction to the genre and to slot games in general. It also has a lot of bonus power in its sleeves, and that should definitely motivate you to give the game a try. But if it is not enough to convince you, then understand that convenience is all that counts in this game. The three reels leave enough space on the screen for a detailed pay table that shows you exactly what kind of symbol combo's need to be collected and which prizes they are connected to. While spinning the reels, enjoy all those familiar symbols like bars in various colors, lucky sevens and delicious red cherries. Also, definitely be on the lookout for that special 5X symbol as it is a 5 times multiplying wild.
Heroes' Realm Slots Takes the Gambling Action to another Level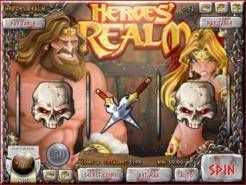 Sharpen your finest blades and put on your strongest armor, because your kingdom is under attack in the action themed Heroes' Realm Slots title from Rival Gaming. Only the bravest warriors will come out of this fight as champions. It is going to be a tough battle, but luckily you have access to an arsenal of seriously bad ass weapons, and you only need to spin the three slot reels if you want to obtain them. Slash your opponents to pieces with these weapons, in order to be rewarded with honor and plenty of coins. This neatly designed game is definitely a 3 reel title that makes you crave for more classic slot machine action in online casinos.
Go for the Big Bucks in Major Moolah Slots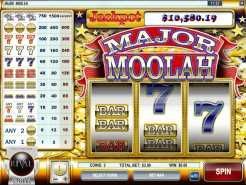 With Major Moolah Slots, Rival Gaming shows again that it has a strong desire to produce a steady stream of quality three reel slot titles. You are in pursuit of some major moolah when you decide to hit the reels of this one pay line game. But before you start, let there not be any doubt about what moolah actually means. You will love the answer because it is actually slang for cash, and cash is of course what you are looking for when you play online slot machines. Luckily, this slot machine has plenty, and it could soon end up in your pockets. Make sure that you have deep pockets though, because you are going to be buried in cash when the Major Moolah progressive jackpot is rewarded to you. With so much moolah at stake. It quickly becomes obvious why this game has been on the favorites list of players for many years.
Gain Access to the Cash Stash in Break da Bank Slots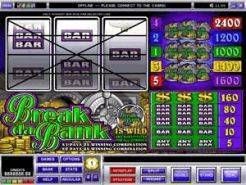 Break da Bank Slots is a little different from most of the games in this list, because it has slightly more winning lines. With its 5 pay lines, it offers more betting opportunities and therefore also bigger pay outs. There is another aspect of this game that makes it a bit different from the others titles in the list. This is because it is created by a bit of an outsider in a list that is largely dominated by Rival Gaming titles. Software producer Microgaming has been the driving force behind the development of this classic, bank themed slot title. Wouldn't it be great to actually break the bank so that you can claim all the money that is hidden inside it? That dream becomes a possibility when you play this simple but highly enjoyable slot title in a Microgaming powered casino.
Money Is the Only Thing That Matters in Big Cash Win Slots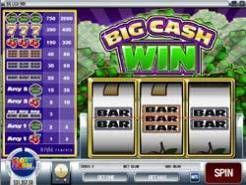 Enjoy the high life as a happy spinner with Big Cash Win Slots from three reel slot king Rival Gaming. This is yet another game that can be the perfect choice for a new player, since it is very simple and straightforward. The only thing that matters in this game is money, money, money. That fact becomes perfectly clear when you take a look at the mountain of cash at the background of the screen. It is a powerful and constantly visible motivator that reminds you of what you're after in this one pay line game. So are you ready to become a money magnet? It only takes one push of the spin button to make your dreams become reality. Certainly, it is a great feeling seeing those beautiful classic symbols line up perfectly on the reels. Pick the cherries, stash the bars, collect the sevens, and you will be well on your way to the good life.
Take Your Winnings by the Horns with Milk the Cash Cow Slots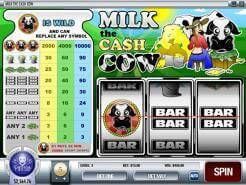 Rival Gaming just keeps them coming. Milk the Cash Cow Slots is another excellent member of the software developer's impressive three reel game collection. This one pay line game is based on a business term that profitable ventures use to describe their consistently cash making products. Just as these products, the game keeps the money flowing in your direction. You get to live a life of wealth and status while dear Bessie keeps providing the golden fuel for your lavish lifestyle. There are some serious buckets of moo-lah to be made in this farming themed slot title from casino software cash cow Rival Gaming. Keep on spinning and keep on milking, because then you will soon be able to exchange your farm for a luxurious villa. But seriously, keep the cow though.
Play for God, Money and Country in Sevens & Stripes Slots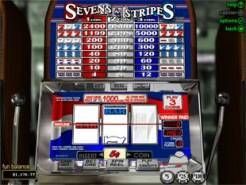 Variety is the spice of live, and that is why it is also interesting to look at a 3 reel slot title from Realtime Gaming. Sevens & Stripes Slots is a worthy competitor to, for example, 3 reel Rival Gaming titles, but it also bears a lot of similarities with them. As a classic slot title enthusiasts, you will be familiar with symbols like the lucky seven and the bar. Also, this slot title is perfectly suited for if you are an American patriot, because it focuses strongly on red, white and blue colors in its design. You can also see the American flag on the background of the screen. So play for God, country and your wallet in this pride inducing slot title. Sevens & Stripes Slots has 3 reels and one pay line, and you can bet with one, two or three coins. Remember that you receive the highest payouts if you place a bet with the maximum amount of coins.
Snow Wonder Slots Showers You in Snowflakes and Coins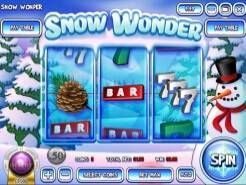 Wouldn't it be great if it could be Christmas on every day of the year? You would receive gifts every morning and the world would be decorated with a blanked of pure white snow. In the real world, this is of course not possible. But thankfully, there is the virtual world as well, and in that world exists Snow Wonder Slots from 3 reel purveyor Rival Gaming. This is a very special game that really makes you feel like it is Christmas every day, and it also hands out amazing gifts every day of the year. So light up the fireplace, sip on a warm cup of chocolate, and spin yourself towards a merry good time. All the valuable presents will fill your heart with joy and you will finally feel that inner child again. Line up all your gifts with the help of 3 reels and one pay line.
Collect the Treasures of the Ancients in Pharaoh's Gold Slots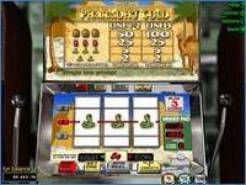 Pharaoh's Gold Slots is a fun little slot title with an ancient Egyptian theme. This is a theme that has become very popular among casino players, which is understandable, because it deals with an incredible mystic civilization. The legendary leaders of the ancient Egyptian civilization (pharaohs) where known to have many extraordinary treasures. The pharaohs where not separated from their treasures when they died. Instead, their most precious possessions accompanied them in the pyramids when they were laid to rest. Although hidden from the outside world in dangerous, labyrinth like pyramids, these precious items strongly speak to the imagination and they have attracted many opportunistic grave robbers in the past. However, the treasure hunting endeavors often proved to be very risky, and many robbers died tragically during their efforts to become unimaginably rich. Luckily, we live in modern times, and there are now much more convenient ways to go after the gold of the pharaohs. All you have to do is visit a Realtime Gaming powered casino and search for Pharaoh's Gold Slots. Load the game and hit its spin button to start your quest for richness. 3 reels and 3 pay lines will then make sure that you are guided towards the loot. During your quest, you will encounter familiar ancient Egyptian symbols like a cobra, an ankh, a scarab beetle, King Tutankhamen's burial mask and the eye of Ra, which is the wild icon of the game.
Simple Is the Way to Go When You Play Mega King Slots
Mega King Slots is a game that is created by another outsider in this top 3 reel slot title list. This outsider is quality game producer Betsoft Gaming. The developer created a simple yet beautiful slot machine that gives you the opportunity to spin for winnings with the help of 3 reels and 5 pay lines. This retro style machine is a nice substitute game for if you temporarily had enough of very complex and overwhelming slot machines with long lists of features, rows of buttons and multi-layer bonus games. Simple is the way to go when you choose Mega King Slots. But that of course does not mean that there is nothing interesting to win in this game. For example, the thought of a 2000 coin jackpot must certainly catch your interest.
3 Reel Slots Are Still Rocking the Slot Machine Genre
At a first glance, you might think that classic slots belong to an old and dying genre. But luckily, that is certainly not the case. Many slot game developers still produce these kind of games from time to time. They do this because they know that there will always be a demand for simple, retro style games that evoke memories and bring back the good old days. These classic games often have retro designs, familiar symbols and simple play styles, but they are powered by modern software, and they can be enjoyed in leading-edge online casinos. Their simple layout also makes the 3 reel games very suitable for multi-platform users. More complicated slots seem to crash more often on for example mobile phones. All in all, 3 reel games are here to stay and they are solid forms of casino entertainment that never fail to entertain new and experienced players.
Play For Free or For Money
Online casinos often let you practice their available games for free in fun mode. Playing for free will give you the time to become familiar with a game, before you actually embark on a thrilling gambling adventure that focuses on real money. Knowing that, there is nothing left to stop you from becoming a member of online casinos so that you can play the best 3 reel slot titles on their platforms.