Basic rules and common slots types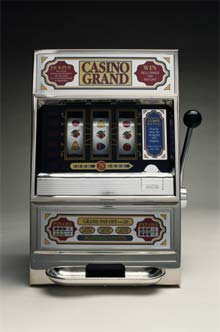 Nowadays players are free to play slots in a huge amount of brick and mortar casinos as well as in online slots applications. And they play with great pleasure, by the way. Although, it is widely regarded that slots are one of the easiest and even primitive game, but at the same time only this type of gambling could provide players with such a great variety of game types, slots rules variations, huge winnings and lots of fun as a result.
Basic slots types: classic and progressive
The first thing that players face when start playing slots is a great variety of their types, but in reality a lot of these differences concern only the shape or color of the slots and are associated with different games' designs.
There are two main slots types that you should know about: classic slots and progressive ones.
Classic or standard slot machines offer fixed jackpot and are the most common and widespread type of slots. On contrary progressive slots do not settle a constant jackpot amount and are programmed so the value of jackpot could increase till a certain level that is usually fixed by casino owners.
The sense is that progressive slots machine are usually connected to other machines so that the value of jackpot is growing while players gambling on these apparatus. This grow continues until the moment when the luckiest of gamblers gets a winning combination and hits the jackpot. In such way the jackpot value could increase very quickly and exactly this feature attract so many risk-loving gamblers.
How to play slots correctly
At first sight, playing slots could really look rather monotonous: gamblers make their bets, push a button or pull a lever, wait when the reels stop their spinning and repeat the same actions again and again.
Actually, it looks so simply only in the beginning. Do you know what rules the players when they make their bets or how they choose slot machines? All these decisions demand deep and solid knowledge of slots game, which turns out to be rather sophisticated but still thrilling and exciting.
The first thing that wise slots players should do is to read all the information on a particular slot machine. The sense is that some details could vary from one apparatus to another affecting your winning essentially.
All slot machines have several reels which are some kind of spools with slot symbols depicted on them. When the reels stop spinning the symbols form different combinations, which could be either winning or not. In order to figure this out, players need to compare the combinations on paylines with those that are listed in pay table.
Paylines are just the quantity of lines which one could make bets on and their number might be different in various slot machines. There are apparatus with 1,3 ,5 ,9 and more paylines, which provide you with more possibilities to stake and in long run with more chances to win. If you are lucky to get winning symbol combination, then you are free to take your slots payout and continue to tempt fortune.